Fri 31 Jul 2009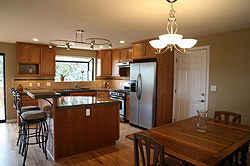 It may be surprising to know, but the top 3 fixes to a home to get it ready for sale, and get top dollar on your return, are also the least expensive!
Declutter your home – Rent a storage space on a short term basis and start the decluttering process now. Sparse is good, not only does it give a potential buyer a feeling of spaciousness and calmness. It also allows a potential buyer to feel they can live in the home because you have made the home anonymous (removing personal photos, knick knacks). Make sure the kitchen and bathroom counters are free of any unnecessary items and personal affects and don't forget the inside of cupboards and closets. Have you ever looked at pictures of homes for sale that are really appealing. Take a closer look and you will realize the homes with most appeal have no clutter!
Cleanliness – This can not be overstated! Buyers will pay thousands of dollars more when a home is sparkling clean, (not just surface clean). If it takes a week, go through room by room and clean every corner or hire a professional. Bathrooms and kitchens are especially important. Re-caulking to remove mildew around tubs and showers is vital. You don't want potential buyers to get an icky feeling in the most important rooms in the house!
Paint – there is nothing better than a fresh coat of paint in a wonderful current colour. If you are not handy and precise do not attempt to paint yourself. Drips of paint and splashes are a turn off. It is important to get the advice of a professional on what are the best colours are for your home and which colours will appeal to the masses. (As a service to my clients I provide a free consultation with a decorator to help chose colours and make other simple suggestions in your home)
Don't delay. Get started now. The market is hot and it is definitely a sellers market. Who would have thought the middle of the summer would be this strong.